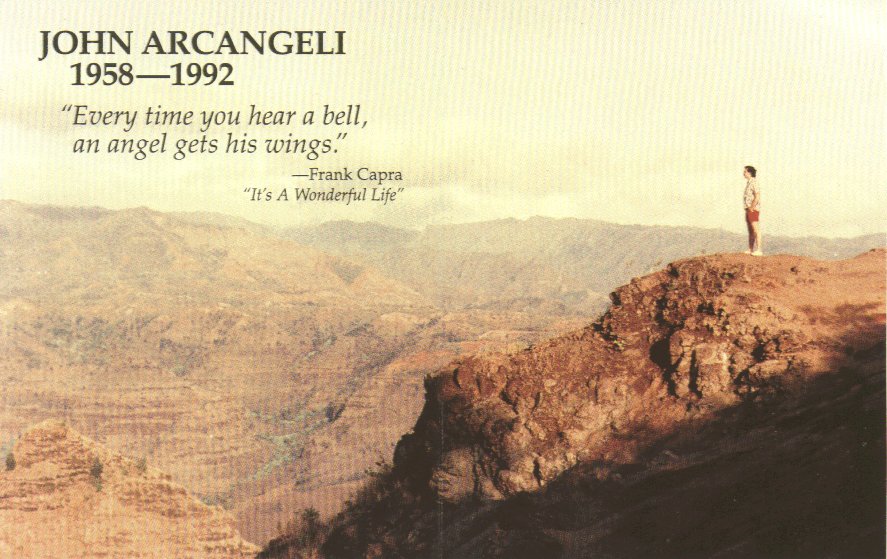 This is the inside of the card from John's memorial service. John is in Hawaii, at his favorite place on earth. Here is the front: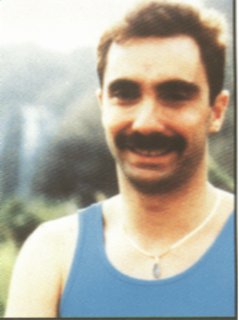 His friend Michael wrote: "John chose the photos. He didn't care that he was 2 days unshaven because we were on vacation and he said 'This is how Italians look on vacation'."
---
John Arcangeli was like a brother to me. We met during high school when he was acting in plays that I was lighting. His many talents included the ability to produce many voices and sound effects, and the ability to memorize every line in a play (his and all others) very early in rehearsals. He always had a lot of energy, and kept everyone around him thinking fast. The "adults" who were around during those times remember John as a cut-up who was sometimes obnoxious. That description fit a lot of us back then (and some of us still). John and the rest of our "family" practically lived in the theatre. John moved to New York and had a promising career in the entertainment business, and died as a rising star. John is still with me any time I am in the theatre. He touched the lives of many people, and should have touched many more.
Steve Conklin
Update 12-28-2002

I have finally added some of my personal memories of John. I promised this a year ago to someone who loved John a lot, and I'm sorry it took this long. I hope that this will help motivate his other friends to preserve their memories
Anyone who knew John is invited to send material for this web page. Send to (steve at conklinhouse dot com).
---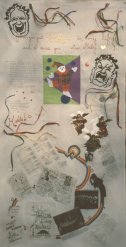 John's panel for the AIDS quilt. (click for a larger image 88K)

Click here for a copy of the text on the quilt

Images of the quilt panel can be seen at the quilt project site Here. Other panels honoring John may be seen here and here.

| Home |